Schedule of events:
We've added a line up of games. Click here for info!

Online Betting
Here are a website where you can read more about canadian Ice Hockey betting online tips.

Click here for a larger version of the team picture.
2007 Shamrock Team Awards:
Most Valuable Player: Dan Dawson
High Scorer: Lewis Ratcliff
Best Defensive Player: Jon Sullivan
Rookie of the Year: Aaron Bold
Unsung Hero: Noah Talbot
Intensity, Effort and Determination: George Westwood
Most Competitive Spirit (as voted by his teammates): Dan Dawson
Most Popular Player (as voted by the fans): Dan Dawson
Most Improved Player: Buck Stobart
Clean Play, Sportsmanship and Ability: Noah Talbot
Physical Health and Ability: Lewis Ratcliff
Contribution to Lacrosse: Chris McKay
Outstanding Team Leadership On and Off the Floor: Chris McKay and Jordan Sundher
Executive Award for Outstanding Contribution and Service: Doug Jones
2007 Mann Cup
Sept 7,8,10,11,12,14,15, in Coquitlam
Tickets will be on sale at ticket booth at the Coquitlam Sports Center..633 Poirer Street.
* Saturday..Sept 1..( 10 am to 1 pm )
* Sunday..Sept 2..( 10 am to 1 pm )
* Thursday..Sept 6..( 10 am to 1 pm )
* Friday...Sept 7...( 10 am to 1 pm )
The Mann Cup prices are
Adult: $22
Student (18 & Under) : $18
Senior (60 and over): $18
Children 12 & Under: $14
Ages 5 & under get in for free
You can also watch from your own home. BY "live video"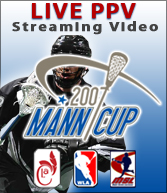 vist http://www.theboxrocks.com for more info
---
The Unthinkable
With the playoffs hanging on a thin mathematical calculation, the Shamrocks arrived at the Palace on Poirier. Not since 1987 has the WLA begun its playoffs without Victoria hosting at least a couple of games. Trot out all the clichés you want, there was no more wiggle room for the Rocks. >> Read more...
---
Rocks Playoff Hopes Fade
The Victoria Shamrocks' slim playoff hopes were all but ended Wednesday as they lost a 9-7 decision to the visiting Coquitlam Adanacs at Bear Mountain Arena. Mathematically now the Rocks must win all 3 of their remaining games, all on the road, while the fourth place Nanaimo Timbermen would have to lose their 3 remaining contests.

>> Read more...
---